On the power of speaking the moment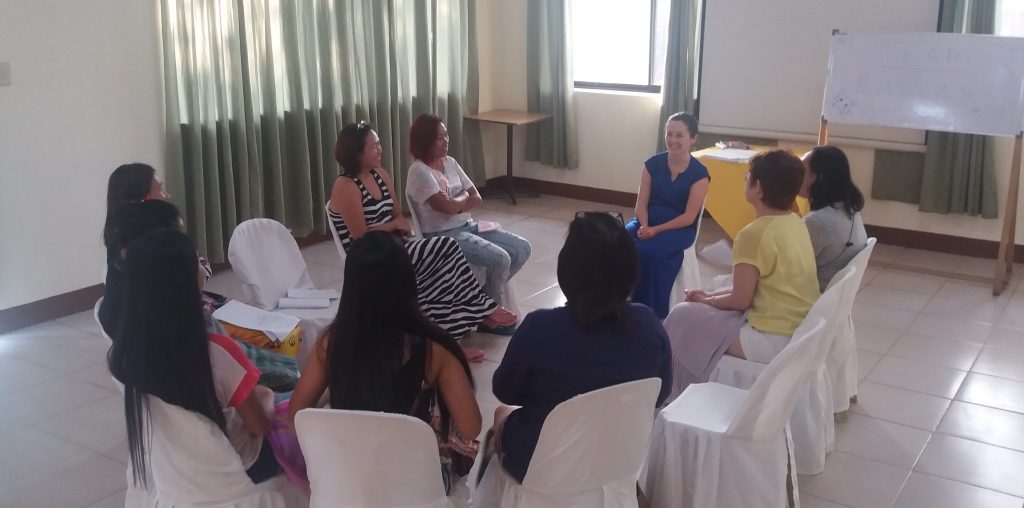 I have just come back from delivering a three day coaching event, my first ever three day event anywhere, in the Philippines.
Although the location, people and format were all unfamiliar, I did very little preparation. I prepared one 30 minute exercise, and got together a couple of short audio recordings that I thought might be useful to play at some point during the 3 days.
And that was it.
On the morning of the second day I looked at the solitary exercise I had prepared and it just didn't feel right to do it. It felt too complicated. So I put it to one side, ready if it was needed, and decided to go with what showed up.
And something showed up.
As the morning session started an idea popped into my mind of a much simpler exercise that I had done at an event as a participant several years previously. I hadn't thought about the exercise since that time. But as soon as the thought arose there was a knowing that it was the right thing to do in that moment.
During the exercise I asked each participant to sit in my chair at the front of the room and connect with the rest of the group for one minute, in whatever way made sense to them, including sitting in silence if they wanted.
Miraculously, every person in the group burst into life as they took their turn. Everyone went over the allotted minute. Previously silent individuals couldn't stop talking. One member of the group even described later that she had had a profound experience of awakening.
That exercise seemed to be a turning point in the event. A deep sense of connection emerged within the group. In the afternoon I realised we now had the perfect foundation to do the more complex exercise that I had originally intended to do. The first exercise had set the scene beautifully for it.
Afterwards it looked like I had designed the perfect framework for an event, with one thing building on another. There had indeed been what seemed like a seamless structure, but it hadn't arisen from a carefully crafted plan. That morning I didn't have a clue what I was going to do with the group, and I wasn't in a particularly good state of mind.
So why did it make so much sense to trust the 'blank canvas'? The 'no plan' plan?
Because it just seemed like the obvious thing to do when you know that the power doesn't come from the plan. That in fact there is infinite invisible power and potential in every moment, plan or no plan.
And nowhere is it more obvious than in speaking.
You can learn a speech, yes, or you can come to a speaking opportunity empty of ideas and plans, and let whatever makes sense in the moment to spontaneously flow out of you.
It is always miraculous how much emerges when you step aside from what you 'should' be saying and just say what is there.
Public speaking and group work has the potential to be an incredibly deep, real, in the moment experience. There is an indescribable richness and immediacy with it when you're truly working with what wants to be expressed in the here and now, whether that's through silence, speech, or interaction. It's a wonderful place to explore the depth of connection, honesty, oneness and possibility that is always there.
I was reminded of the power of emptiness when watching Masterchef the other day. Each chef was asked to prepare a dish while the judges watched and asked questions. What hit me was at least half of the contestants, when asked what they were going to do next, didn't know. They were just doing whatever made sense then and there, and allowing the next step to be revealed when the next step was needed.
I laughed to myself because it reminded me of my 'speaking style' during the Philippines event. I was just saying what made sense then and there, unburdened by the need to know what was going to come next.
If there's one thing I will take away from the experience, is a newfound respect for what author Eckhart Tolle describes as the 'Power of Now'.
Are you ready to share your message with the world?
Get your free recording: 'Building a Conscious and Commercial Brand'